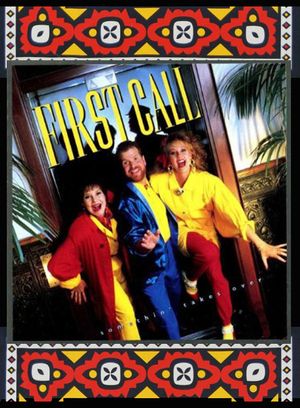 O Sifuni Mungu
By Marty McCall

The first spark of inspiration for the song "O Sifuni Mungu" hit me at a 1987 Grammy show performance. First Call had received a Grammy nomination that year and we were attending the awards show in Los Angeles. When Paul Simon entered the stage to perform a song from his "Graceland" album, he was joined and backed up by Ladysmith Black Mambazo, a male vocal group from South Africa. It was a musical and cultural innovation rarely seen at that time in pop music and it was thrilling! "Graceland" won Album of the Year and the performance resulted in Ladysmith's rise to worldwide acclaim.
I've always loved exploring music from diverse cultures and this experience affected me powerfully. Ladysmith was authentically African yet still accessible to American audiences, using the same diatonic scale and chord progressions found in western music. While Paul Simon's music is solidly American, the addition of Ladysmith's strong but sensitive vocal accompaniment, the unique style, and the traditional clothing of the group made the performance an equally African cultural statement. A powerful fusion.

It was a moment of clear inspiration for me. I saw a spiritual, musical and culturally blended vision that I wanted deeply to express, believing that within the Body of Christ, heightened awareness of our varied cultures gives us a unique pathway to celebrate and worship God together.
That summer at the Seminar in the Rockies event at Estes Park, I ran into my friend Scott Wesley Brown and asked him if he knew any African believers who could help me conceptualize a song for First Call. On the spot, Scott introduced me to The Mas Brothers, twins from Zaire, who happened to be at Estes Park that same week on an American tour and who were songwriters, singers and pastors. What a combination! What grace-filled provision! Our arranger, David Maddux, and I spent that providential afternoon with the Mas brothers translating "All Creatures Of Our God and King" (*see below) into Swahili, our language of choice among the 5 languages the brothers speak. We recorded (on a cassette player) our discussion about word inflections and indigenous melodies we might use in crafting the song.

Fully inspired, I took the experience, the memories and the tape back home to Nashville and wrote the English/Swahili song. David arranged it brilliantly to fit First Call and "O Sifuni Mungu" was born. To add to the great chain of events God orchestrated for this song, months later when we recorded "O Sifuni Mungu" for our "Something Takes Over" project, we discovered that the Mas Brothers were still in the US and available to join us on the recording! We flew them to Nashville where they recorded sound effects and mouth and finger percussion indigenous to their tribe in Zaire. It was an amazing journey from beginning to end and it all seemed perfectly orchestrated by the Lord.
"O Sifuni Mungu" has endured for our radio listeners, live audiences, choirs, dance groups and churches for 30 years! Most recently, First Call was delighted to arrange and record the latest (fourth) version for three voices for our "Second Birth" EP.  May God continue to use the song to His glory!
1987 - The ORIGINAL from "Something Takes Over" with 4 voices, (at about the 18 minute mark)  http://bit.ly/2zOlt6o 
2016 Second Birth  - shorter version with 3 voices  http://bit.ly/2yNpsPx
I also love the African children's choir version.  http://bit.ly/2mvbkIZ
*According to Wikipedia, the words of "All Creatures of Our God and King" were initially written in 1225 in a canticle by St Francis of Assisi, based on Psalm 148. Sometime between 1899 and 1919, William Draper, a rector in the Church of England, translated and paraphrased St Francis' words and set them to music.
SaveSave
SaveSave
SaveSave